LP style
2242
2244
2249
2252
2254
2256
2264
2264n
X110
X210
X220
X230
X240

ES-335 style
2207
2221
2227
2229
2266
2267
2281
X410
X420
X420VS

SG style
2247
2259

Flying Vee
2236

Strat style
2263wc
2275b
2275c
2275n
2275s

Tele style
2238wc
2248wc
2253w
2253wc
2270c

F-bass style
2271
2273


G-bass style
2250
2261

R-bass style
2288
2289


MPC
Models
X120
X310
X320
X330
X340
X350
X610
X620
X710
X720
X730
X740
X810
X910
X930
X940
X950
X960

Original
designs:

Phoenix
models
X110
X130
X135
X140
X145
X149
X150
X155
X160
X165
X175
X180
X185
X189
X190
X195
X199
Phoenix
basses
X630
X635
X640
X650
X695

Pointy
models
XV2GR/
XV3GR
X1PW/
X2RD
XV1

Pointy
basses
X700

Other
original
models:
X250
X260
X270
X280
X290
X510
X935
X935CS


RCSBlues's X330 and X340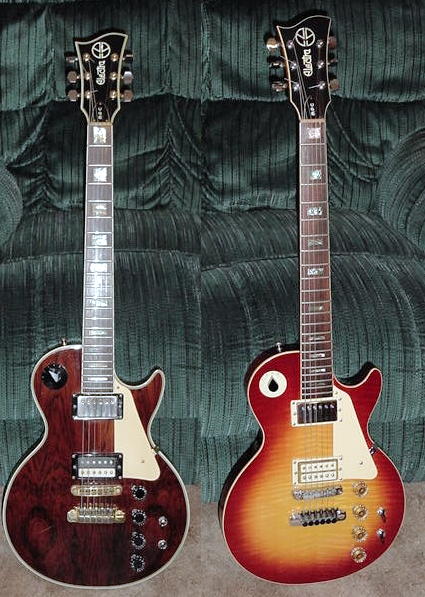 A pair of beautiful MPC Electras!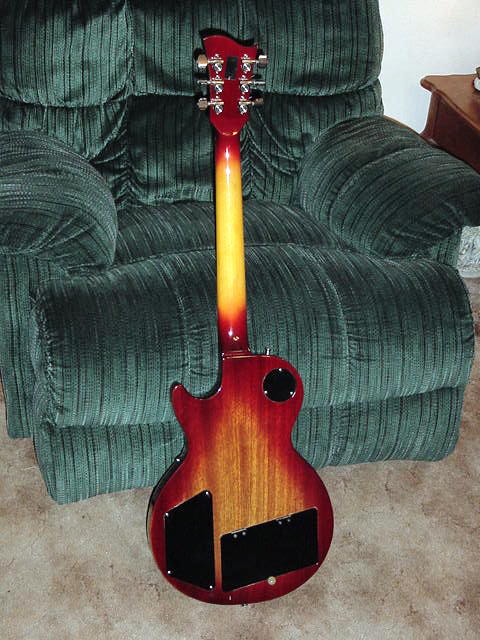 "I have an SLM Electra MPC X340 which I bought new in 1977; I purchased a volume and tone pot replacement package that was offered by St Louis Music back then called the "Supercharger Kit"; it had the 2 pots and some other electronics to replace the stock pot / resistor combination; the schematic was backwards in the instructions, so I had to reverse the wiring to make them work, as the volume was OFF at 10 and all the way on at 0; but I have had that replacement on there since about 1978. The thing really cranks, especially through my Roland GP8. I use the MPC Compressor and the Flanger exclusively in the Electra X340. Everything else I could ever want is in the GP8. The X340 is also excellent when utilizing an EBow - better than my PRS 10 Bird. I think that is because the Electra MPC models are set up for .010 - .046 strings and comfortable action, while the PRS is set up for .009 - .042 strings and really close action. I also added a gold TP6 tailpiece and a new brass bridge from an Electra Ultima that I ordered from SLM."

"My X330 is a bit mellower with the stock pots; also added a chrome TP6 (I like the quick tuners at the tailpiece); I play the X340 more but it would be hard to choose between the 2 (if I had to); either one has excellent feel and playability, as well as quality workmanship; a the time of purchase I was actually in the market for a Gibson LP; I played the SLM Electra X340 and liked it better, bought it, then the X330 about a year later; never have had a Gibson Les Paul. I have had a Gibson Firebird (sold it later) which was a hand me down from my brother who had tried to modify the nut by carving on it with a knife because he thought the guitar was making a buzzing sound………… The Firebird was a bear to play because of the odd shape which tended to make it body heavy and was always shifting down on my shoulder while I was standing and playing."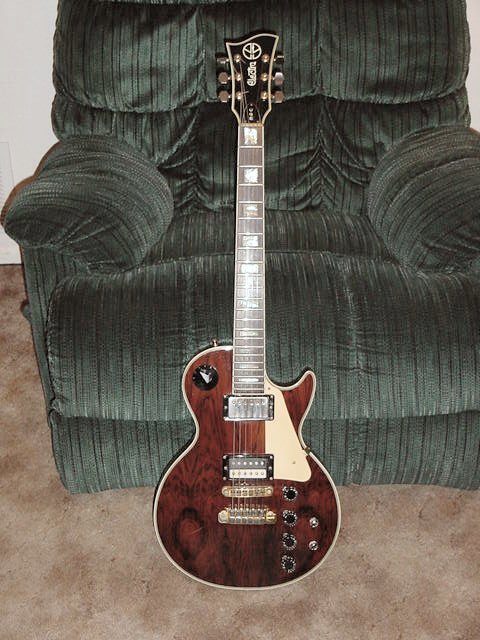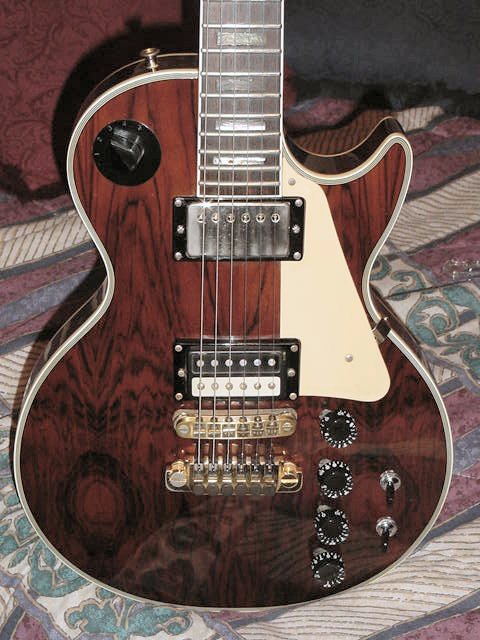 "I use a John Thornburg modified Power Overdrive MPC and the Phase Shifter in the X330; the MPC Compressor and MPC Flanger in the X340."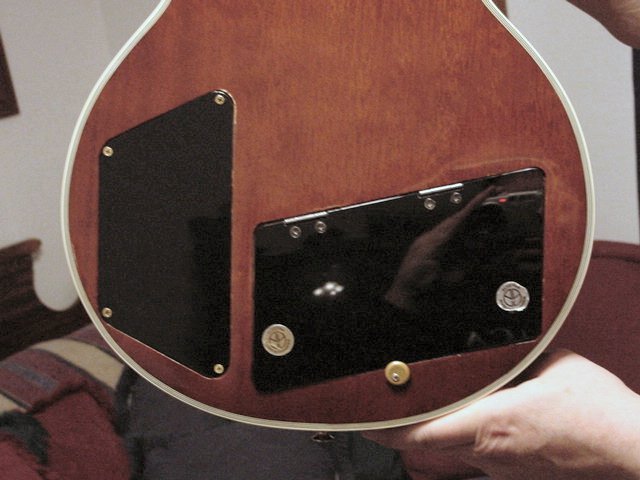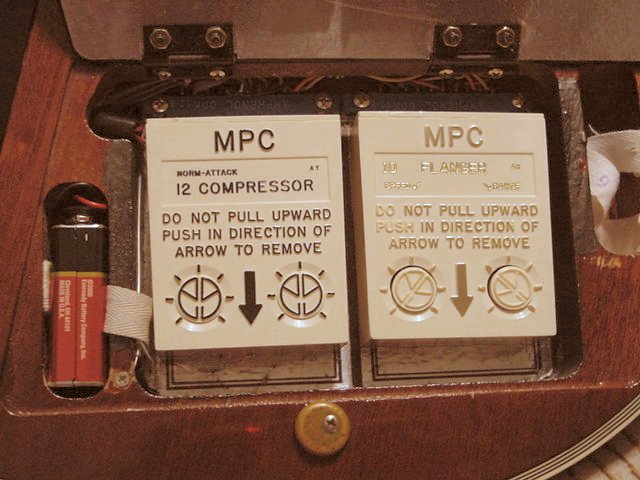 ---

"Here are some old pics that I found the other day from the KACV-FM90 THIRD Birthday bash circa 1978 - 1979; " They are starting to show some age by the yellowing and some are blurry; I'm the guy in the black T shirt playing the X340!

1979 KACV – FM Third Birthday Party Bash
Featuring Kinetic Energy
Televised on Jackson Street Live!
on KACV Ch.3 (PBS) local station in Amarillo, Texas;

Kinetic Energy Members:
Randy Smith - Lead Guitar / Vocals
Gary Smith - Lead Guitar / Vocals
Mark Misfeldt - Bass Guitar / Vocals
Terryl Crofford - Keyboards / Vocals
Tony Hardin - Drums
Johnny Rose who used to work for MCA
also performed along with the Amarillo Jazz Ensemble."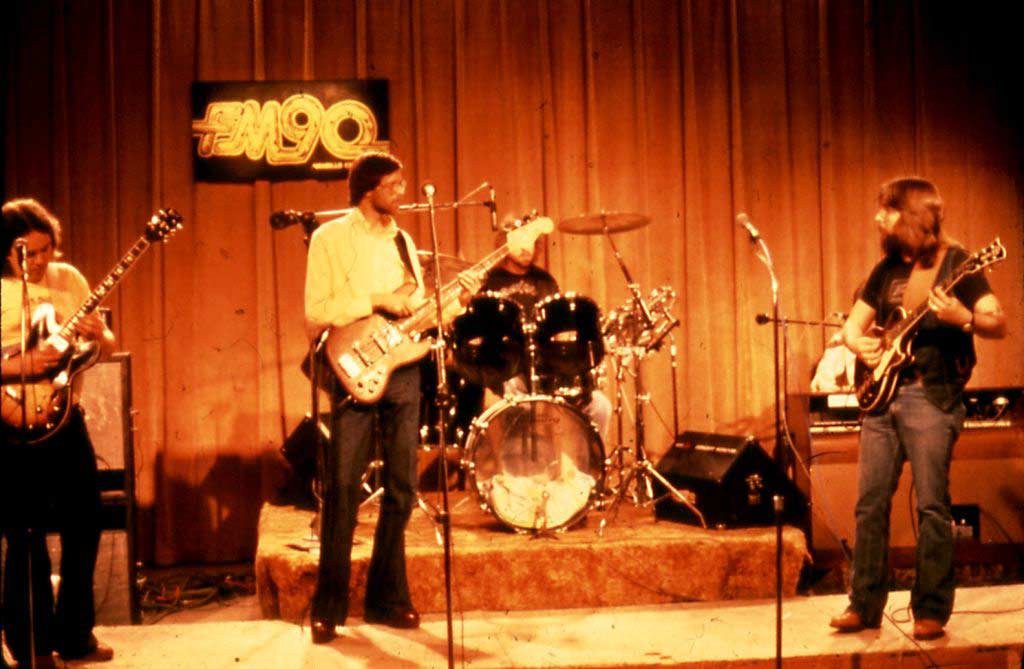 "We played 2 sets 30 minutes each. Performance was video taped with live audience. I still have the video tape! "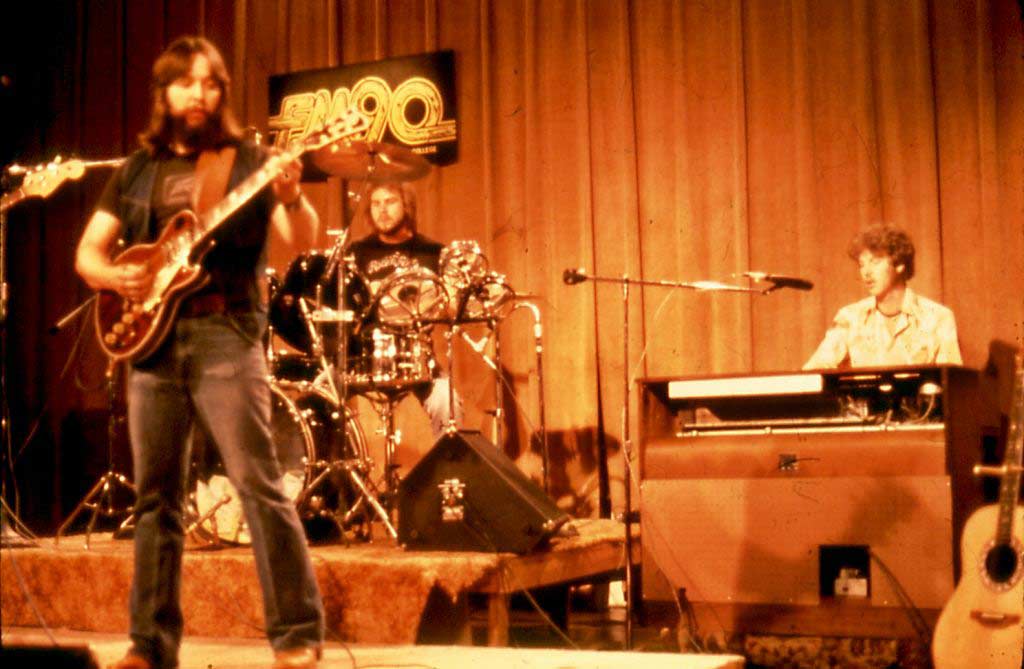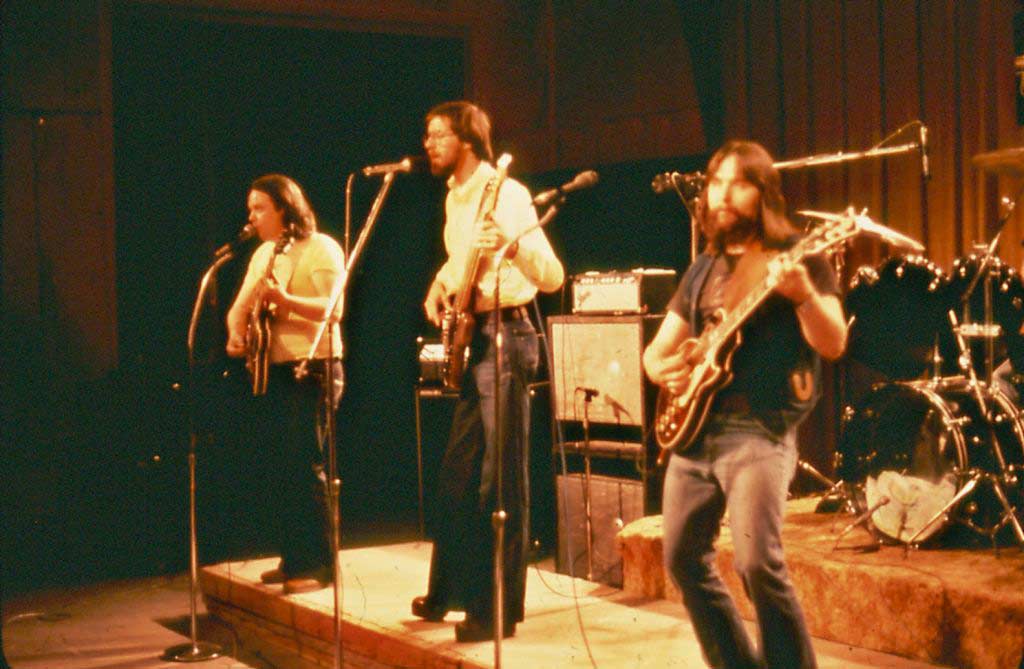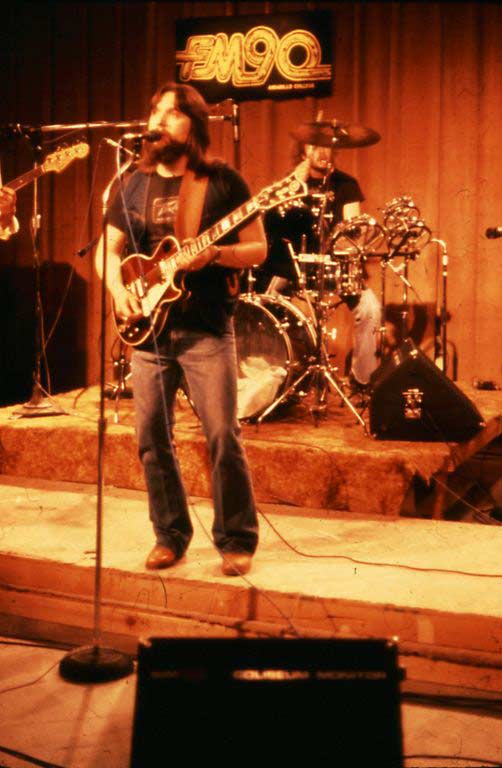 "Performance Notes -
Our versions of:
In Memory of Elizabeth Reed, Melissa, Stormy Monday (Allman Brothers);
Dreams I'll Never See (Molly Hatchet);
Gimme Three Steps (Lynyrd Skynyrd);
1984(Spirit);
Can't Find My Way Home (Traffic)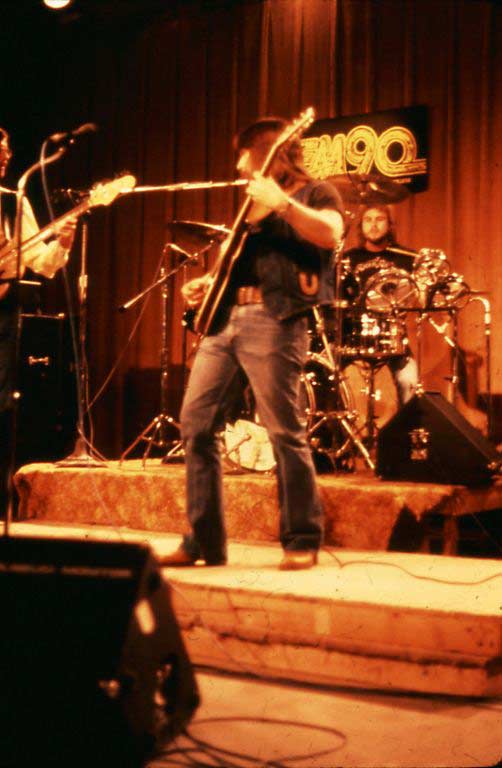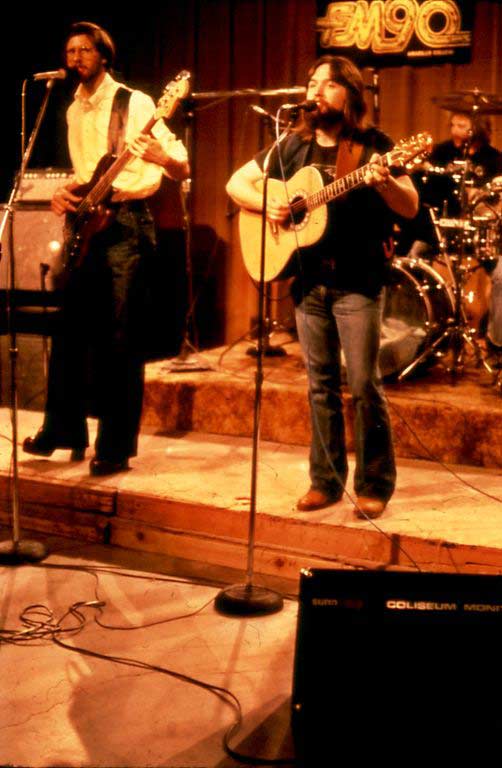 "We had the best local sound man in the booth for this so he covered up our mistakes (pretty much). His name is Billy Stull and now owns the recording studio in Clovis New Mexico that Buddy Holley used."