LP style
2242
2244
2249
2252
2254
2256
2264
2264n
X110
X210
X220
X230
X240

ES-335 style
2207
2221
2227
2229
2266
2267
2281
X410
X420
X420VS

SG style
2247
2259

Flying Vee
2236

Strat style
2263wc
2275b
2275c
2275n
2275s

Tele style
2238wc
2248wc
2253w
2253wc
2270c

F-bass style
2271
2273


G-bass style
2250
2261

R-bass style
2288
2289


MPC
Models
X120
X310
X320
X330
X340
X350
X610
X620
X710
X720
X730
X740
X810
X910
X930
X940
X950
X960

Original
designs:

Phoenix
models
X110
X130
X135
X140
X145
X149
X150
X155
X160
X165
X175
X180
X185
X189
X190
X195
X199
Phoenix
basses
X630
X635
X640
X650
X695

Pointy
models
XV2GR/
XV3GR
X1PW/
X2RD
XV1

Pointy
basses
X700

Other
original
models:
X250
X260
X270
X280
X290
X510
X935
X935CS


MPC 4 - Tank Tone (Tank Sound)
Electra Catalog Description
Gives hollow percussive mid-ranges with a filtering network, or envelope effect found on electronic synthesizers.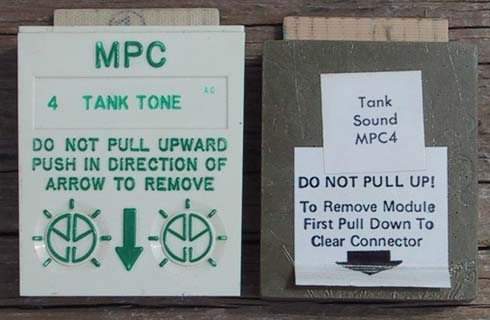 2 versions of MPC04 Tank Tone (Tank Sound) Module

Tank Tone Sound file
---
Review by Mike C
I just got one of these modules recently (after 20 or so years). I guess they try to replicate a reverb tank. I like the sound, especially in combination with the Phase Shifter, but this module seems to lower your overall volume. Crank it up from your normal setting if you want to use the Tank.
---
Review by Steve H
This is not a reverb module of any kind. Think of this as a "fixed wah pedal." Just as if you set your wah pedal in one position, a la Randy Rhodes. That's what this module is supposed to do. It doesn't do it very well. If you had some amazing right hand technique, I guess you could try to move the knob while you play to get a wah wah effect, but the placement of the effect knobs on MPC guitars does not encourage this. I think it's called Tank Tone because the type of EQ filter that's used to create the effect in many wah pedals (the whole Vox/Crybaby design) is known as a tank circuit.
---
Review by Webmaster
Playing around with this module a bit more and reading the factory description, I'd have to agree with Steve's conclusions. If you strike a note and spin the control knob it does sound a lot like a wah pedal. This module gives some pretty cool tones, but I still can't find a use for them :-)
---