LP style
2242
2244
2249
2252
2254
2256
2264
2264n
X110
X210
X220
X230
X240

ES-335 style
2207
2221
2227
2229
2266
2267
2281
X410
X420
X420VS

SG style
2247
2259

Flying Vee
2236

Strat style
2263wc
2275b
2275c
2275n
2275s

Tele style
2238wc
2248wc
2253w
2253wc
2270c

F-bass style
2271
2273


G-bass style
2250
2261

R-bass style
2288
2289


MPC
Models
X120
X310
X320
X330
X340
X350
X610
X620
X710
X720
X730
X740
X810
X910
X930
X940
X950
X960

Original
designs:

Phoenix
models
X110
X130
X135
X140
X145
X149
X150
X155
X160
X165
X175
X180
X185
X189
X190
X195
X199
Phoenix
basses
X630
X635
X640
X650
X695

Pointy
models
XV2GR/
XV3GR
X1PW/
X2RD
XV1

Pointy
basses
X700

Other
original
models:
X250
X260
X270
X280
X290
X510
X935
X935CS


MPC 7 - Auto Wah
Electra Catalog Description
A pulsating, automatic, variable speed wah wah that is desirable for any and all types of music.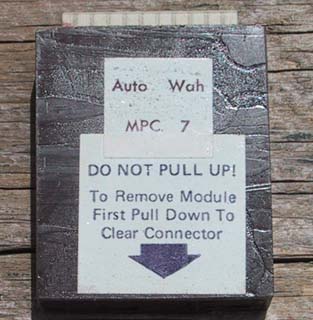 Auto Wah Sound file
---
Review by Mike C
The automatic wah is probably the worst ideal for a constant, static, timed effect. I tried the Electra 'wah' module back in 1980 and decided against buying one. The Electra wah is a static motion, up and down in the same interval throughout forever, until you turn the knob. A 'real' wah pedal is used much more dynamically, to beeeennnnddddd or sssttrreeecchhh a note or mood.
Sorry, but I cannot advise seeking this particular module unless you are a collector only, not a player.
---
Review by Webmster
I'll echo Mike's sentiments on this module. To me it almost sounds like the Tremolo on my 70's Traynor Studio mate when you put it on 10. I will say that it is different than the Tank Tone however. The Tank seems like it might serve some purpose...the Auto Wah, I'm not sure it does :-)
---
Review by Steve H
I have not seen or played one of these. I can only mention that it shares the exact same circuit board as MPC4. I guess they just left out the "auto" part of the circuit in the Tank Tone module.
---