LP style
2242
2244
2249
2252
2254
2256
2264
2264n
X110
X210
X220
X230
X240

ES-335 style
2207
2221
2227
2229
2266
2267
2281
X410
X420
X420VS

SG style
2247
2259

Flying Vee
2236

Strat style
2263wc
2275b
2275c
2275n
2275s

Tele style
2238wc
2248wc
2253w
2253wc
2270c

F-bass style
2271
2273


G-bass style
2250
2261

R-bass style
2288
2289


MPC
Models
X120
X310
X320
X330
X340
X350
X610
X620
X710
X720
X730
X740
X810
X910
X930
X940
X950
X960

Original
designs:

Phoenix
models
X110
X130
X135
X140
X145
X149
X150
X155
X160
X165
X175
X180
X185
X189
X190
X195
X199
Phoenix
basses
X630
X635
X640
X650
X695

Pointy
models
XV2GR/
XV3GR
X1PW/
X2RD
XV1

Pointy
basses
X700

Other
original
models:
X250
X260
X270
X280
X290
X510
X935
X935CS


MPC 10 - Flanger
Electra Catalog Description
Like two tape recorders running together, one slightly slower than the other, giving a delayed effect.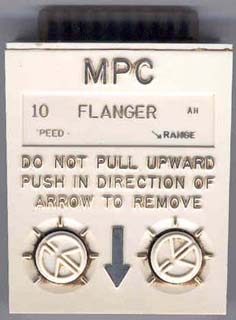 Flanger Sound file
---
Review by Chaiyz
The flanger has 2 knobs, one for speed and the other for range. Works well but a pedal flanger sounds much better IMO.


---
Review bySteve H
This is the most complicated and expensive of the modules. '81 dealer price list shows it at $135 msrp, nearly twice the cost of any other module. Never seen one or heard one.
---
Review by Jamie T
One of the best things about this module is the fact that you instantly had a 12 string guitar at your disposal. Set the speed fairly high and the range towards the low side. (If I remember correctly.. its been 25 years) The knob on the front controlled the intensity of the effect. A flick of the switch and you could move easily from a sustaining rhythm to a sharp lead. No more double necks to buy!
---
Review by Webmaster
This is the first and only Flanger I've ever used but I think it's one of the better modules. I'll agree with Jamie that you can pretty successfully get the 12 string feel with this module as well as many other cool sounds.
---
---