LP style
2242
2244
2249
2252
2254
2256
2264
2264n
X110
X210
X220
X230
X240

ES-335 style
2207
2221
2227
2229
2266
2267
2281
X410
X420
X420VS

SG style
2247
2259

Flying Vee
2236

Strat style
2263wc
2275b
2275c
2275n
2275s

Tele style
2238wc
2248wc
2253w
2253wc
2270c

F-bass style
2271
2273


G-bass style
2250
2261

R-bass style
2288
2289


MPC
Models
X120
X310
X320
X330
X340
X350
X610
X620
X710
X720
X730
X740
X810
X910
X930
X940
X950
X960

Original
designs:

Phoenix
models
X110
X130
X135
X140
X145
X149
X150
X155
X160
X165
X175
X180
X185
X189
X190
X195
X199
Phoenix
basses
X630
X635
X640
X650
X695

Pointy
models
XV2GR/
XV3GR
X1PW/
X2RD
XV1

Pointy
basses
X700

Other
original
models:
X250
X260
X270
X280
X290
X510
X935
X935CS


MPC 11 - Frog Nose
Electra Catalog Description
Who needs an amp? The Frog Nose, a surplus speaker or head phones allow you to play anywhere without electric power. Practice in your car, waiting for the bus, etc.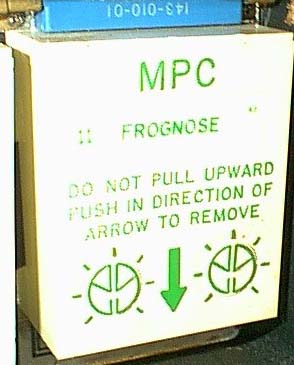 Frog Nose Sound file
---
Review by Webmaster
This is about as useless as the modules get. The original idea was; that you can use this as a headphone amp, sorry...there's much better headphone amps out there for under 50 bucks. This sad little module barely gives you enough volume to hear the guitar. In fact I tried using a Power Overdrive module as a headphone amp and found it worked just as good as the Frog Nose !!! I then tried the Power Overdrive module that John Thornburg modified for me and found it had twice the volume as the useless Frog Nose did! It does work as well as a stock MPC5 does for a little power boost when played through an amp, but hardly worth the effort IMHO.
---
Review by Chaiyz
It's exactly what is depicted. It's a Joe Walsh wannabee's best friend. Very nice tones and also very desirable.
---
Review by Steve H
I guess it's the marketing department with the goofy names. It's a little transistor amp that can actually drive a small speaker or set of headphones. Alternatively you could use it as a gain device to overdrive your amp. I once played one but was unimpressed.
---
Review by Robert D
I have one in my X-120 and when I play through my Legend Rock and Roll 50 combo amp in passive mode I get a very crunchy "ZZ Top" type of tone. The X-120 is not as fat as a Les Paul, but has a sound almost like a Telecaster on steroids. Once you flip on the Frognose Module, cranked to 10 of course, it is distortion city! I love the sound of this module as it gives the guitar more mids without losing any of the tone. The increase in gain is very noticeable.
---
Review by Slak Zak
With a name like Frognose I was under the impression that this MPC Module was going to be a radical rare gem of effects genius. Completely wrong! Maybe, you'll get different mileage from yours, but this what my experience with the Frognose was. It is designed, so you can plug it into your headphone's guitars output jack and then jam away in bliss. No bliss to be found here, but irritation. First, once engaged, you have no control over your tone or volume. There is one volume setting, so, unlike Eddie Van Halen, "Volume is Tone" you're stuck with one tone and one volume, so you had better like it. You also can't engage the second effects module if so desired, which is a huge downer. And the final insult is, your playing in mono, so only one headphone speaker functions, perfect if your Van Gogh. Maybe, if you have a way of making your headphones dual mono this won't be a concern. The tone is rather nice, but a large percentage of the tonal quality is going to be your guitar's pickups. I also, used the Frognose with an amp, and the over all effect is it added some additional grit and presence. Basically, your running the amp signal of one amp into another.
---