---
Rightio, gang...moving slowly along...

I've decided that I've been overthinking this one and have opted for a clear coat over the bare, rather scruffy looking wood.

Now, before y'all start wondering about my sanity and whether excommunication from these hallowed forums might be in order, let me explain...

1) I have done the veneer thing, the graphics thing and the original finish thing

2) This is to be my 'working' guitar

3) I cannot find a piece - or 3 pieces!! - of veneer that blow my skirt up at all!

4) I also cannot find purple wood stain that I like for love nor money, and lastly..

5) When I assembled the thing with it's new hardware to check for fit, I found I rather liked the way it looked... just nicely understated.
I rather like the butchers block construction, too, and think it should be shown off, even with the scorch marks etc.!

So... whaddya reckon?? It'll mean rather a lot of flatting back between coats as Hans reckons that the wood will just soak up the 2 pack clear in places, and almost reject it in others which means loads of thin coats. he'll blow the clear onto it when he's doing bike tins and I'll take it home and flat it off.

The headstock had been sanded before I got and the decal was gone, but Hans reckons when the clear goes on, the 'shadow' left by the decals should be, if not blindingly obvious, at least quite noticeable; cool!!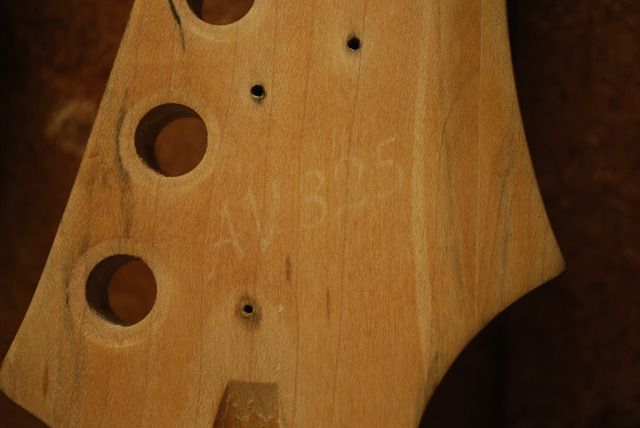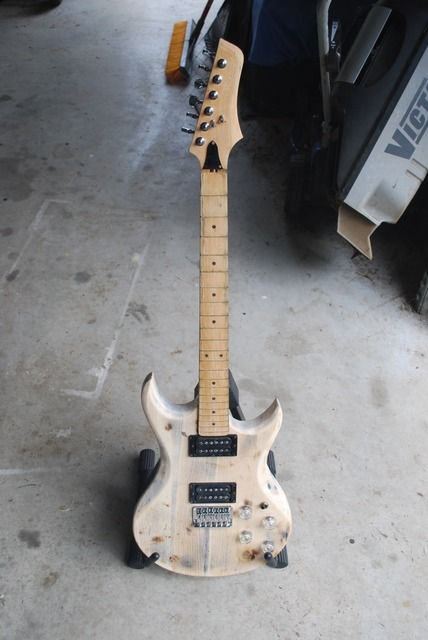 Oh, I haven't sanded the board yet, or re-fretted!!