Friday, September 21, 2007, 11:36 PM -
Models
Deluxe set neck ES-335 copy with flamed maple top, pearloid inlays, and gold hardware.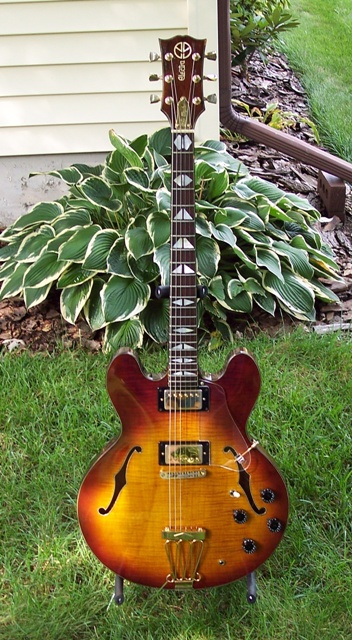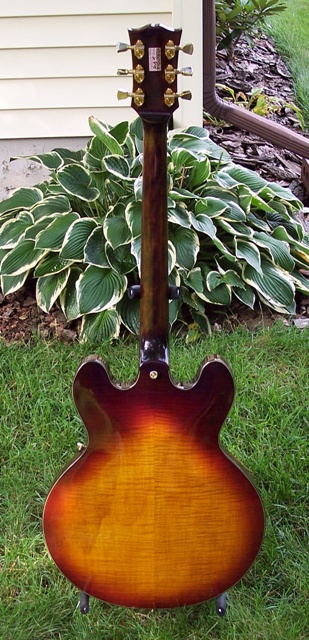 This beautiful archtop hollowbody represents the flagship of the Electra line and of the highest quality of japanese guitars of this period. It is comparable in quality with any of the best vintage guitars of this type.
Early versions have an open-book headstock (1976 may have been the first year of this model) but by '77 the switch was made to Fan-style headstock.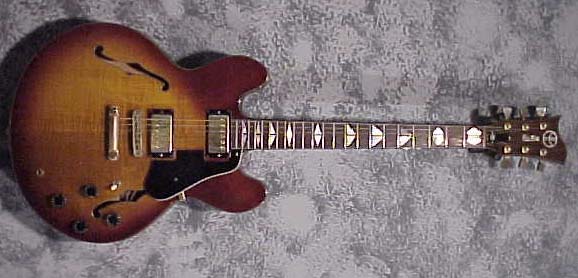 As fan-style headstocks and peace-symbol logos are generally considered to be a mark of Matsumoku-made guitars, it would seem the Jazz Strad is an example of Matsumoku's specialty in the early Electra years- premium archtops. The Maple Pro is another interesting example of this, and worlds apart from the early Slimlines.
---
Thanks to Dan Taylor for photos of his beautiful '76 X410.
From the 1977 catalog: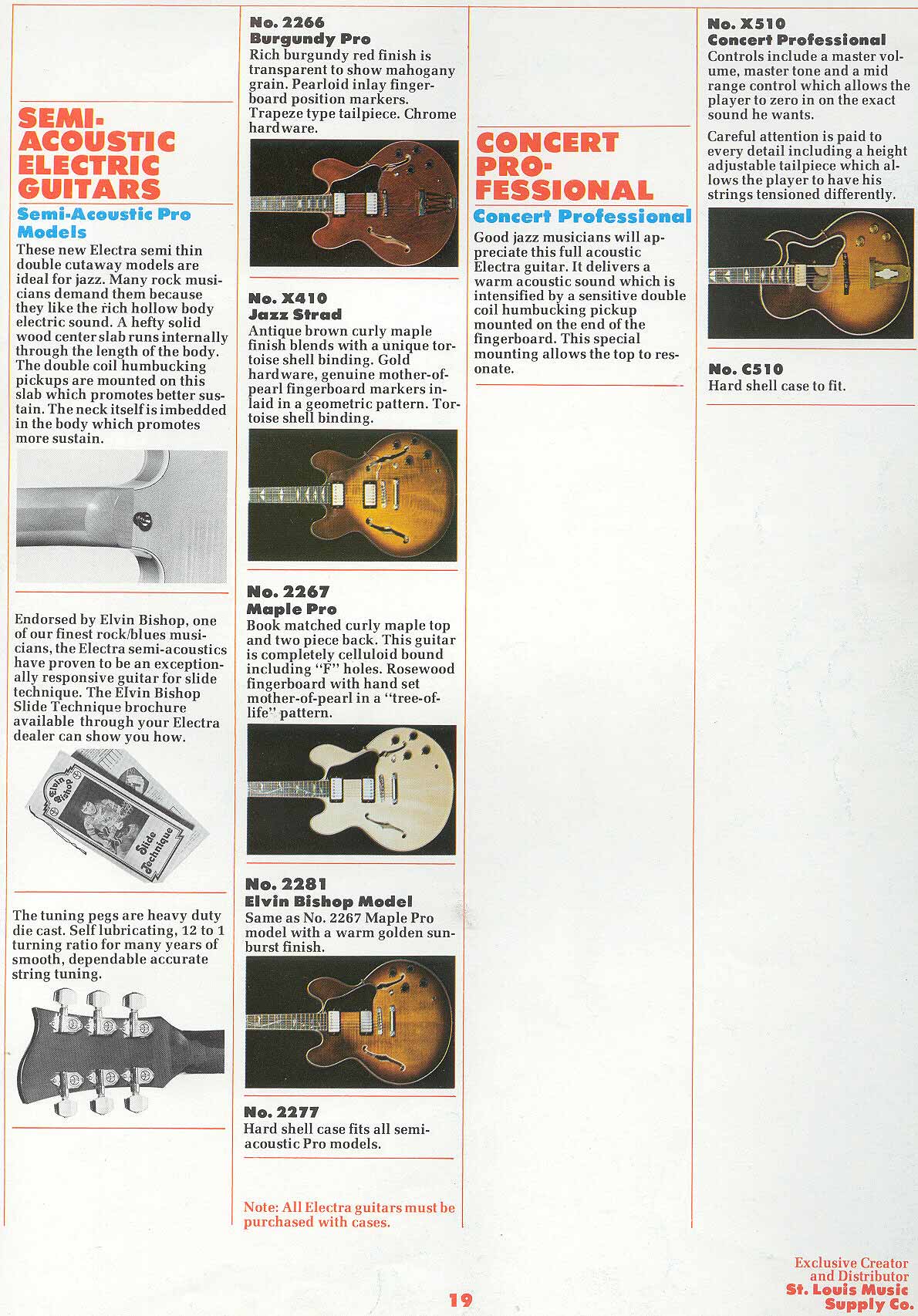 Saturday, September 22, 2007, 12:04 AM
That's just lovely. I'll bet it plays as sweet as it looks.
Saturday, September 22, 2007, 02:36 PM
FROM THE OWNER: I purchased this Electra X410 Jazz Strad February 9, 1987 at the Kentwood Outlet Pawn Shop at 44th street and Division, (now called Martin Luther King Blvd)in Kentwood (Grand Rapids), Michigan.
The shop owner had a price tag of $150.00 on the guitar. The day I saw and played it, I had no money to spend. I drove all the way back to Holland, where I lived at the time, and could not get the guitar off my mind. I got up the next morning and the guitar was still haunting me. I went to work and asked my Aunt Patsy, who worked at the same place I did, if she would loan me $150.00 to buy the guitar, as I would pay her back when I received my tax returns. Good ol' Aunt Patsy cut me a check! At 3:30PM, I was out of that shop like a jack rabbit, made a quick stop at the bank and on the highway to Grand Rapids. When I arrived at the pawn shop, I talked the owner down on the price and got the guitar and original case for $135.20!!! What a deal! I think that was the last good deal that ever came out of that pawn shop.;-)
The guitar sounds awesome, plays like butter, keeps excellent tune and the innotation is superb! The neck is true and stays that way!
For those who are wondering: I had Del Langejans (luthier of the well known Langejans acoustic guitars) make a truss rod cover out of brass with my name engraved on it. I still have the original plastic truss rod cover. And yes, I promptly paid good ol' Aunt Patsy back her money I borrowed!
Thanks for looking.
Comments are not available for this entry.